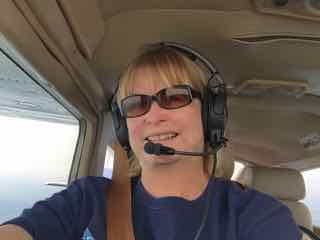 Now that you know my music background, you can take a peek at my personal life, which is often full of adventures.
I have been married to my husband for 40 years (whoa!). He is currently teaching high school and college legal studies and law enforcement classes, but his hobbies are music, golf and flying...and yes I fly, too...I operate the radio. We have a beautiful and talented daughter who played French Horn in high school and college bands. However, her love of animals led her to become a veterinarian with 2 dogs, 2 cats and a horse of her own. The best part?....we now have a beautiful (human) grandson!
Travel has taken us all over the U.S., Australia, Canada, China, Europe and Mexico. True adventures to be sure. My husband and I enjoyed a fun music trip in May, 2016 where I played in an orchestra touring Waikiki and Hong Kong. What a treat! In 2017, we attended the Clarinet Fest in Florida. As a genealogist I have met many long lost cousins on my travels and even found a few who play music!